Earning 5000 rupees every week just by playing games. Sounds great right?
The gaming industry was valued at more than $173 Billion in the year 2021, & there is no doubt that it will go up in the coming years. In recent years, the gaming industry in Nepal is also growing rapidly. You can see everyone getting involved in some kind of gaming, whether it is mobile games or computer games, or console-based games.
If you ask a person between the age of 15 – 45 whether they know or have heard about the game PUBG Mobile or Free Fire, the answer will be "yes".
Today we are not here to talk about the gaming industry, but about a Nepali gaming platform that is a product of Red Tail Fox.
Red Trail Fox -also known as Redtail Studio – is a creative agency based out of Kathmandu, Nepal having an experienced team in game development, brand identity development & digital marketing.
The platform developed by Redtail Studio is known as Ramailo Games, a social gaming platform launched in 2021. They have around 82 games on their platform and all of those are developed by themselves. They have a wide variety of games on their platform like Action, Adventure, Role-playing & so on.
Out of 82 games, 27 games are free to play whereas the other 55 are premium. To play those other 55 games you have to pay a monthly subscription fee of Rs60 which you can pay via IME Pay. And they also provide a yearly subscription, with a fee of Rs500. You can also subscribe to their platform if you are a Ncell user, but there is only 1 year and 6-month plan while paying via Ncell.
Well, that was about the platform. But now let's get to the part where you can play and make money. That's what you're here for, isn't it?
Sorry, I was kidding, you can't just earn Rs5000, weekly, but you can also earn Rs50, Rs20 & Rs10 every day. In total Rs80, every single day. Technically you can earn more than Rs14,000 by playing games on Ramailo Games. Jesus that's a lot more than I have earned from this blog myself since I started it in 2019.
To earn money on their platform you just have to participate in their weekly and daily competition and rank first. Well well well, now comes a little hard part. Because all the games on their platform are easy to play 😜. If you don't believe me, check out my profile here or my ranking at the ongoing competition.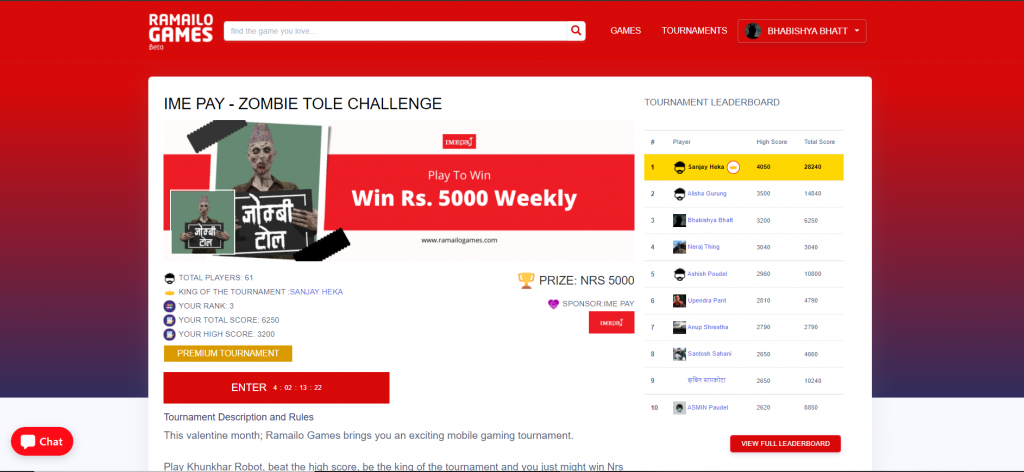 To participate in the competition you have to be enrolled in their premium subscription, and then you can participate to win. You have to rank 1st, 2nd, or 3rd to win the cash prize. The cash prize is as follows:
1st Position: Rs.3000
2nd Position: Rs.1500
3rd Position: Rs.500
So what are you waiting for? Go and start playing now, guys! Ma ni Gaye hai kehlna lai, I need money too like everyone. 😁
Click here to go to their current competition – ZOMBIE TOLE CHALLENGE