The thought of writing this article came into my mind after I saw a post from 2013 on one of the popular Facebook IT groups "IT Entrepreneurs for Nepal" by Manish Modi, who is Managing director at Khalti at the current moment. It has been 8 years since that post, and the problem is still there.
PayPal was founded in 1998, since then, it has become one of the most popular online means of sending and receiving money worldwide. As of 2020, they have over 377 million users. They have five subsidiaries; Braintree, Venmo, Xoom, iZettle & Honey.
Who needs PayPal?
Anyone working as a freelancer, selling any services online, or say anyone needs PayPal to receive and send money. PayPal is a widely used platform for receiving and sending money worldwide. If you are working in any platform like Fiverr, Upwork, Truelancer, or doing any work online like affiliate marketing you need PayPal to receive money. There is a platform Payoneer which is available in Nepal and is used widely by many Nepali to receive money, but there are some restrictions like you can only receive money from business to your Payoneer account and the minimum withdrawal is $50 and needs to receive over $200 to enable money sending feature to other in Payoneer.
On the other hand, if PayPal was available in Nepal, then it would have been a lot easier for freelancers, affiliate marketers, people wanting to sell their products on a global scale from Nepal.
Many platforms these days provide bank deposits also through SWIFT transfer due to which we don't need to have any PayPal account but there are some cons of it. There are high charges while using SWIFT transfer to receive money directly into a bank account.
The problem I faced recently:
A few weeks ago, I received a payment from an affiliate marketing platform of $11.32 where I had made around $23.32. I used bank transfer to receive payment and had to pay $12 as a fee. But if I had used PayPal here, I would have paid only $0.46 (2% of receiving money) as a fee.

Why receive feature is not available?
After seeing lots of posts on the internet about PayPal's features not being available in Nepal, I conducted small research and came to know the actual reason behind why PayPal is not available in Nepal (Receive Money feature).
On 26th June 2021, I wrote an email mentioning all the departments of Nepal Rastra Bank (NRB) and told them that I was unable to receive money on my PayPal account & the reason provided my PayPal regarding this issue was "Due to the different laws and financial regulation of each country, some features like receiving payments, adding funds to PayPal account or withdrawing funds to local bank account are yet to be offered, in certain countries." and I also told them that I was unable to sign-up on biggest payment processor platform "Stripe" and the reason provided by Stripe as "Stripe wants to help remove barriers to online commerce in every country where businesses are looking to move, build, and scale online. While we do not have any ETA on Nepal, we will get back to you as soon as we are ready to onboard businesses in Nepal."
You can check my email to NRB and all its departments below:
After 2 days I received a reply to my email from the director of the Payment Systems Department (PSD) of NRB and he told me why the receive feature is still not available on PayPal for Nepal. As per the email from NRB, the reason was "Pay Pal is not licensed to work in Nepal as a wallet. To Receive a fund in Nepal via PayPal or any other international wallet companies either it has to take permission of NRB or it has to have an agreement with any of the PSP/PSO or money transfer companies or banks licensed by NRB, which I doubt is not happening right now and that is business level decision of the concerned companies and out of NRBs purview. PSD has already issued circular to facilitate transfer of small ticket payments from foreign to Nepal. hope in the coming days PayPal or any other foreign wallets will have collaboration with Nepalese Payment Service companies to serve Nepalese customers."
As per the above email from NRB, the reason is that PayPal needs to take permission from Nepal Rastra Bank (NRB), to enable the funds received feature for its users in Nepal or any PSP/PSO, Bank having a license from NRB can collaborate to enable that feature in Nepal. I don't think PayPal will approach NRB first and seek a license from them to operate in Nepal due to various reasons and the main reason is not having many populations, so the best solution for this is, any Nepali PSP, PSO, or Bank to approach PayPal and try to work on this.
After the above reply from the director of PSD, I received another reply from the director of the Foreign Exchange Management Department (FXM) and said "These are frequently asked questions (FAQ), many inquirers have raised this issue. Can't we (PSD, FEMD and IT department) sit together for amicable solution?"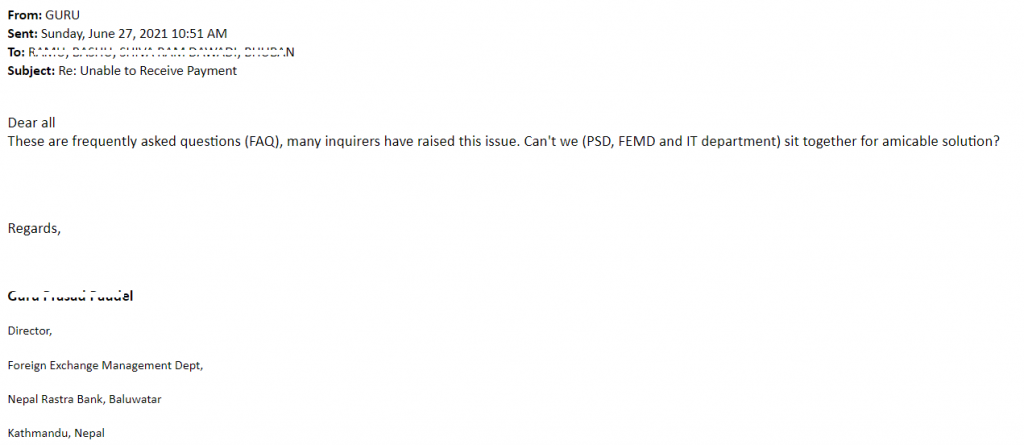 Looks like they are working on something regarding it, but have not received anything regarding it in past few months. Let's hope they try to bring it asap.
What can be done to enable that feature in Nepal?
We know the actual reason why the feature is not available, due to PayPal not having any license to operate in Nepal. NRB charges 1% on the money we receive from foreign, you can see that on above Bank Statement "1% TDS FEE". And if receive feature was available on PayPal for Nepali, NRB would be unable to charge that 1% fee.
If anyone working at any PSP, PSO, or Bank is reading this article, why don't you approach PayPal and try to bring the feature that everyone has been waiting since a decade?